Affiliated 1993
When Kladno was promoted to a townlet in 1543, it was awarded the privilege to use its own coat of arms — a blue escutcheon bearing both the half of a silver eagle and the lynx in natural color.
After several years of maintaining sister city relationships with two cities in Asia (Yao, Japan and Hualien, Taiwan), the Bellevue Sister Cities Association asked the City Council in 1989 to endorse the establishment of a sister city relationship in Europe. The Council directed the BSCA to find a sister city in one of the emerging democracies in Eastern Europe.The Council determined that the governments that had been under the domination of the former Soviet Union exhibited the greatest need for assistance. The Kladno affiliation was about two years in the planning and included an exploratory trip to the Czech Republic.
Demographics
Kladno has a population of 80,000 people. The town was established in 1318 and is the largest in the Central Bohemia Region. Kladno is the natural center of the northwest, west and southwest area of Prague, the capital of the Czech Republic.
History
The first written evidence of Kladno dates back from the 14th century. The growth of coal mining and the iron industry around 1850 led to a dramatic transformation of Kladno and its vicinity from an agricultural townlet to an important industrial region of Bohemia.In 1918, citizen demonstrations took place to support the birth of a long-wished-for republic. A period of prosperity and wealth continued until the Nazi occupation of 1939. In 1968, Kladno was occupied by the Soviet Red Army. The Russian occupation ended in November 1989 with the creation of a free Czechoslovakia, and its citizens became a part of a restored democratic society. The country split into the Czech Republic and Slovakia in the early 1990s.
Industry
The economy of the region has historically been centered on agriculture and industry,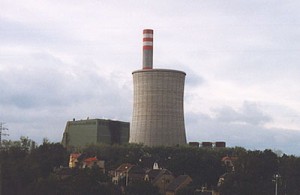 especially coal mining and iron production. Poldi Ironworks pictured here was a major employer until 1996. Kladno has been known as the "Town of Coal and Steel." Two enterprise zones were established in 1997 for doing business in the field of industry and new technologies development in the Kladno territory.
Government Structure
There is an elected city parliament with 33 members who select the mayor, three deputy mayors and five council members.