Affiliated 1984
Due to the interest of Bellevue citizens of Taiwanese extraction, members of the Bellevue City Council and the Bellevue Sister Cities Association visited Hualien in 1984. They formed an affiliation shortly after that trip.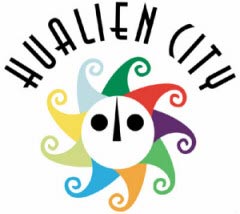 Demographics
With a population of more than 110,000, Hualien borders the Pacific Ocean and is the largest city on Taiwan's East Coast. The geographical location yields magnificent scenery. The Taroko National Park located in Hualien County was established in 1986 and was of special significance for the environmental protection movement in Taiwan. The park is famous for its marble gorge.
Hualien is home to the Ami and Atayal tribes. The government regards aboriginal culture as an integral part of the island's heritage.
Government Structure
The City Council has 19 members elected by the citizens of Hualien.
Industry
Hualien has been the most important city for commerce in eastern Taiwan. Hualien is the province's leading producer of marble and jade and is known as the City of Marble. Marble fragments are often used as the material for sidewalks, arcades and buildings. Hualien is expected to grow to a more industrial and commercial city in the future.
A marble statue given to Bellevue by Hualien stands in the plaza at City Hall.
Visiting Hualien in 2003 City Council members, including Conrad Lee, Chuck Mosher and then-Mayor Connie Marshall joined the BSCA-sponsored tour to sister cities Hualien and Yao. Elementary school children performed several traditional dances in honor of the visiting delegation.